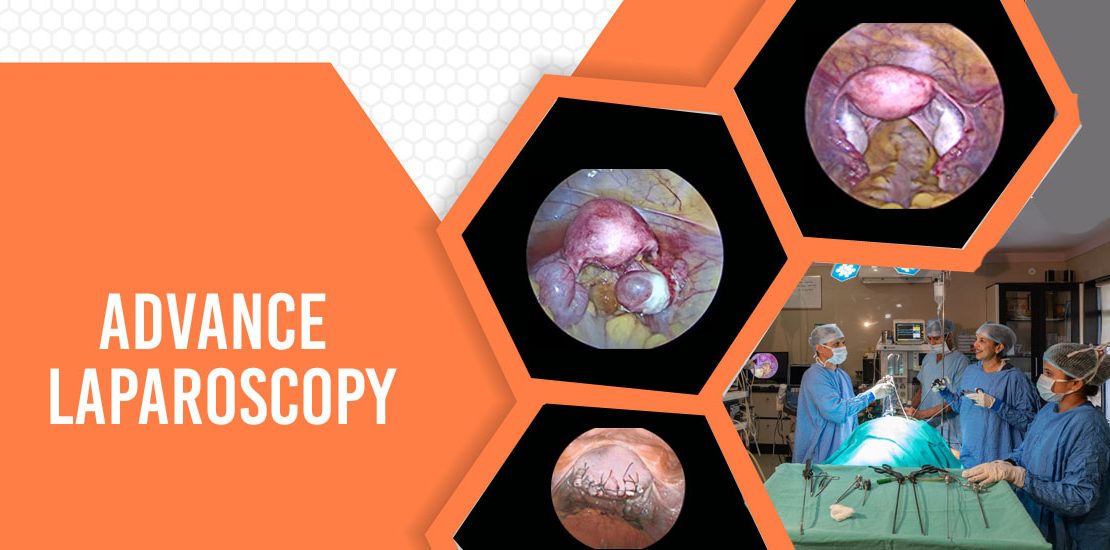 Best Gynecological Laparoscopic Surgery Indore
Who Should Undergo Gynecological Laparoscopic Surgery?
It is a standard form of surgical intervention in infertile women who have:
Basic infertility workup
Suspected Tubal Problems or Blockage

Fibroids

– Laparoscopic Myomectomy
Endometriosis – Endometriosis Excisional Surgery
Ovarian Cyst – Laparoscopic Cystectomy
PCOS – Laparoscopic PCO Drilling 
Adenomyosis – Laparoscopic Adenoma Resection
Adenomyoma Surgery
Ectopic Pregnancy
Laparoscopic Tubal Recanalization/ Tuboplasty
Laparoscopic Hysterectomy- Uterus Removal Surgery
What is Gynecologic Laparoscopy Procedure?
Under general anesthesia the small telescope is introduced through the naval and camera attached at the other end of the telescope helps in magnifying and viewing inside the abdomen and pelvis. The image is transmitted on our TV monitor screen.
The problem is diagnosed and treated at the same time. The gynecologic laparoscopy procedure is done with laparoscopic instruments introduced through small 5mm incisions on the abdomen.
The entire gynecologic laparoscopy procedure is recorded and the video recording along with the images are given to the patient. After diagnostic gynae laparoscopy, you are discharged after four hours, and you can resume your work after one day. There are two or three stitches from where the telescope and the instruments are introduced in the abdomen.
How Long Does a Gynecological Laparoscopic Surgery Takes?
The time duration depends on the type of surgery being performed. A diagnostic laparoscopy would take about 15-20 minutes while advanced procedures can take about 60 minutes.
When Can a Patient Return to Normal Daily Life After Gynecological Laparoscopic Surgery?
After a diagnostic laparoscopy surgery, the patient can resume daily normal life next day itself but after advanced procedures it may take from 2 days to 3 days to get back to normal daily activity.
Advantages of Gynecological Laparoscopic Surgery
There are various advantages of laparoscopy over open surgeries especially for infertile patients and women with gynecological problems.
Small Incisions for Performing Surgery
Lesser Pain Compared to Open Surgery
Shorter Hospital Stay, Most of the Surgeries are day-care Procedures
Faster Recovery Time, Patients are able to resume routine activity the same day
Lower Risk of Infection due to Smaller Incisions
Better surgical outcome as more precise surgeries are performed due to magnified view
At AIIM, we provide Gynecological Laparoscopic Surgery with cutting-edge technology, equipment, and specialized laparoscopic surgons.